The Altitude Journals
by David Mauro
One would never have picked David Mauro, author of The Altitude Journals to climb the major 7 mountain peaks in the world. Not only wasn't he a climber, he wasn't even a hiker. He was down on his luck, living in his sister's spare room while going through a divorce. Then, he received an invitation from his brother-in-law to climb Mount Denali.
And that was the turning point. The Altitude Journals are about his journey, through mountain climbing, with its adventures, its difficulties and its redemptions.  I climbed each mountain with David, routed for him and read every word in his retelling of this journey.
David's sense of humor is evident throughout. When I asked him what he had initially thought when Thai asked him to join him climbing Denali, the highest point in North America, he told me, "My initial thought was, 'Well, I'm not even a mountain climber so that sounds like a bad fit.'  By the end of the journey I had come of age as an altitude climber, so I understood clearly what I was getting myself into with Everest. I liked my chances of success, which I placed at 30%."
Hiking and climbing became part of his being. "It's magical up there, and the thrill stays with you for days after." He urges beginners to connect with hiking groups and start small and safe.  He cautions, "Mountaineering is dangerous under good conditions, but can be foolhardy for the uninitiated. "
David had journaled during his life so he shared that it was natural to record his experiences while he was climbing the seven Summits. "I would be inside my sleeping bag with a headlamp at 20,000 feet scratching out what seemed salient about that day. When the climbs were all over I sat looking at the weather-beaten journals stacked in my den and thought, 'I bet there's a story in those.' "
On reader's review talked about The Altitude Journals being the embodiment of the "power of yes."  I liked that, as the memoir is more than mountain climbing, although clearly so important.  It was the vehicle through which David reclaimed himself.  We may have different means to climb out of difficulties—the important this is to defy your own fear, David said. "We only learn from life when we say "yes" to it. In my case it took that first yes to change the entire trajectory of my life."
While David's writing emerges from a crisis in his life, much of it is joyous. It is this joy that is so attractive and compelling to a reader. "My impetus was gratitude. I felt something incredible had happened in my life and in return I owed a debt that could only be paid in sharing that experience with others who might see themselves, their own struggles as a subtext to my story."
As for new adventures? David said he's looking for some with a bit more comfort.  Whatever he picks, I hope he keeps journals and shares them with us, because I've added walking parts of the Appalachian Trail to my bucket list. Anyone want to come along?
David told me that he lost 10-15% of his body weights in these climbs. His favorite meal when he returned home was Honky Tonk Pot Roast. He shares this recipe with us.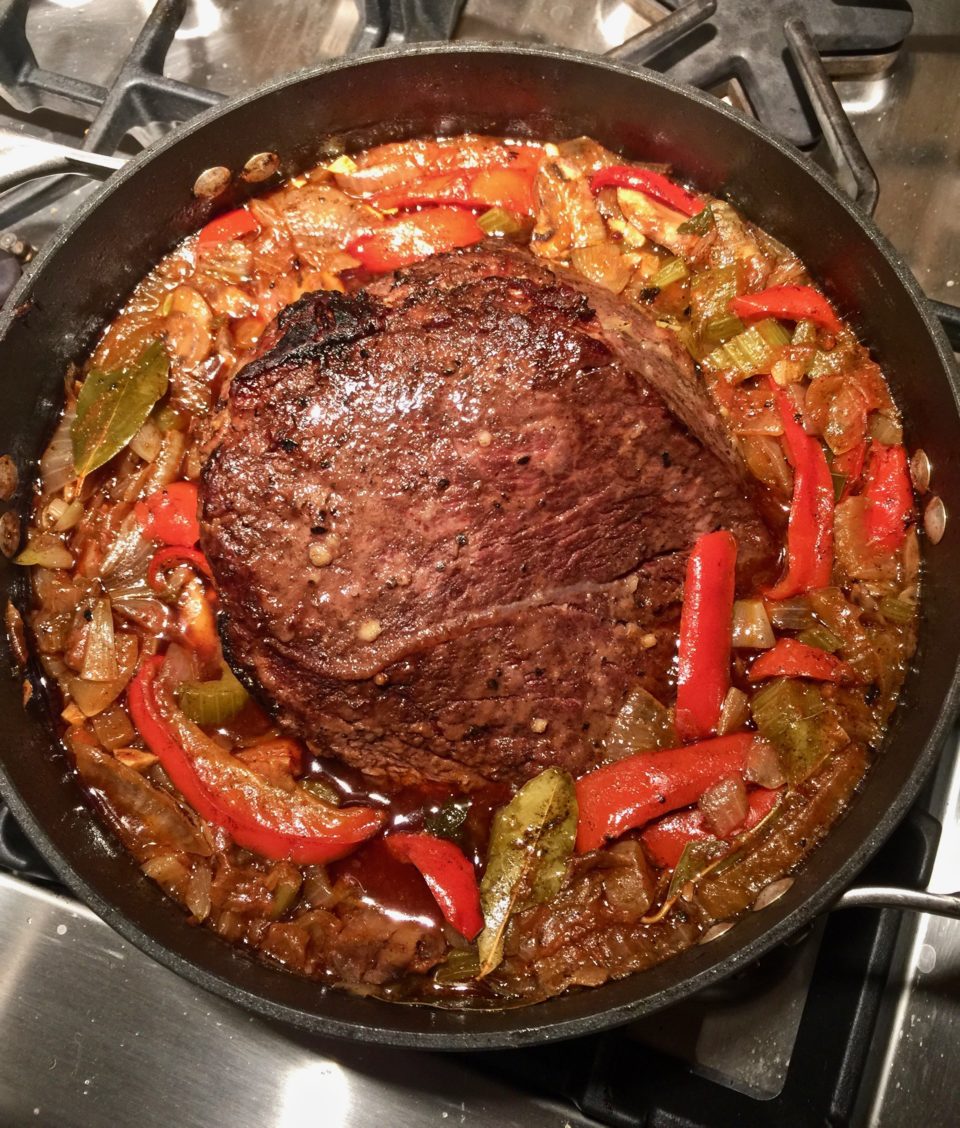 Honky Tonk Pot Roast
Recipe taken from Dinosaur Bar B Que. An American Roadhouse by John Stage and Nancy Radke, Ten Speed Press.
1 tablespoon plus a pinch of kosher salt
1 tablespoon plus a pinch of black pepper
1/4 cup flour
1 -3 1/2 pound boneless chuck roast
1/4 cup vegetable oil
2 cups onions, chopped
2 cups chopped red bell pepper
 1 cup chopped celery
4 bay leaves
1 1/2 tablespoons minced garlic
3 cups broth or beef stock
1 cup Mutha Sauce (recipe below)
4 ears of corn on the cob, fresh or frozen
2 cups peeled and quartered sweet potatoes
2 cups peeled and quartered white potatoes
1 teaspoon thyme
Garnish:
Sliced scallion greens
Preheat oven to 325.  Mix together 1 tablespoon salt, 1 tablespoon pepper and the four. Rub it thoroughly into the meat. Pout the oil into a big heavy Dutch oven and get it nice and hot over medium hear.  Brown both sides of the roast until deep brown, 5-8 minutes per side. Take the meat out of the pot and set aside.
Dump the onions, peppers, celery, and bay leaves into the pot. Season with a pinch of salt and pepper and cook until soft and translucent. Throw in the garlic and cook for 1 minutes more. Add the broth and the Mutha Sauce. Give it a good stir. Put the meat back in and bring the liquid to a boil. Cover with a lid and pot into the oven to simmer gently for 1 1/2 hours.
Carefully slice each ear of corn into 2" rounds. Toss the corn along with the sweet potatoes, all purposed potatoes, and thyme in with the meat. Simmer for about 45 minutes longer or until the veggies are soft and the meat is tender.
Take the meat out of the pan and let it rest on a warm platter for about 15 minutes. Skim the fat off the surface of the pan gravy and if it seems a little thin, just reduce it on top of the stove. Fish out and toss the bay leaves. Slice the meat and cover with gravy and vegetables. Sprinkle on the scallions for color before serving it up.
Mutha Sauce
Yield 6 cups
1/4 cup vegetable oil
1 cup minced onion
1/2 cup minced green bell pepper
1 jalapeño, seeded and minced
Pinch each of kosher salt and black pepper
2 tablespoons minced garlic
One 28-ounce can tomato sauce
2 cups ketchup
1 cup water
3/4 cups Worcestershire sauce
1/2 cup cider vinegar
1/4 cup lemon juice
1/4 cup molasses
1/4 cup cayenne sauce
1/4 cup packed dark brown sugar
1 tablespoon chili powder
2 teaspoons coarsely ground black pepper
1/2 teaspoon ground allspice
1 tablespoon Liquid Smoke (optional)
Directions
Pour the oil into a large saucepan and set over medium-high heat. Toss in the onions, green peppers, and jalapeños and give them a stir. Season with a pinch of salt and pepper and cook until soft and golden. Add the garlic and cook for 1 minute more.
Dump in everything else except the Liquid Smoke. Bring to a boil, and then lower the heat to a simmer. Simmer for 10 minutes. Swirl in the Liquid Smoke and let the sauce cool. Pour it into a container, cover, and store in the fridge until ready to use.
Learn more about author David Mauro at his website
The comments, advice and opinions expressed here are those of authors whose books have been honored with a B.R.A.G. Medallion. They do not necessarily reflect the views of the owners, management, or employees of indieBRAG, LLC.