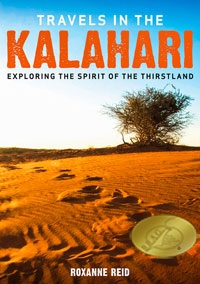 ---
Synopsis
Explore Africa's Kalahari without leaving your armchair
The Kalahari is a semi-desert of photogenic red dunes and star-crammed
skies where African animals run wild. Now you can take a walk with a Bushman
tracker, enter the world of the meerkat, track cheetahs across the dunes, drive
a 4×4 trail, camp out under the stars and taste Kalahari truffles in the
company of the author. She has visited the Kgalagadi Transfrontier Park – which
sprawls across the border between South Africa and Botswana – more than twenty
times and her travel tales are full of candour and gentle humour. A "need
to know" section at the end gives basic advice on how to recreate some of
these experiences for yourself.
Why you will enjoy your travels in the Kalahari
"In this collection of superbly written Kalahari cameos and
anecdotes, Roxanne takes us on a journey of her experiences through the
Kalahari; most of them amusing, others informative and some rather disturbing.
For those who have visited the park it will bring back memories … For those
who have not yet had the opportunity to experience it, it will whet the
appetite." (Wildlife researchers and
authors Gus and Margie Mills)
Popular Books in Non-Fiction
---
Copyright 2023 IndieBRAG, LLC. All Rights Reserved.