Lorraine Wilke
Author of 2 B.R.A.G.Medallion Honorees- shares some great advice on making your book reading an event!
One of the most tangible, satisfying ways for writers to connect with their reading public is with a book reading, that vaunted affair every author pictures at some point during the creative process! But as many self-published authors can testify, the logistics of getting one scheduled can be challenging, with results that are sometimes less than auspicious. Certainly every venue comes with its quirks and marketing can be a bear, but there are effective ways to ensure that your reading becomes a win/win endeavor.
---
First: how to actually get one on the books:
Pay for it. Yep, some bookstores not only charge to stock your book (commonly called "consignment programs"), but to schedule readings as well. Which means any author with a checkbook can get books on shelves and readings on the calendar without much effort. Reading fees can get as high at $250-$300, (which can be daunting for the average indie author), but if the store has a high enough profile to garner you real attention, it may be well worth the investment. Check the policies of local bookstores to see if they offer that kind of program; if so, getting a reading set may be as simple as factoring the cost into your marketing budget.
Bookstores that don't charge fees, however, can be a bit more challenging. Even those willing to feature indie authors may have calendars booked well in advance by publicists who got busy long before their clients' books launched (in fact, if you've got a book coming out soon, this would be the time to approach those particular bookstores!). Some stores are simply so in-demand with well-known authors on book tours, they have few or no spots to offer local unknowns.
Still, some indie authors have reported they've charmed managers of local stores into not only stocking their titles, but getting readings scheduled, all based on the power of an appealing book, a good pitch. If you can pull that off, go for it, but be aware that some stores demand a minimum headcount per event (some as high as fifty people), which can be tricky for a newbie author.
Another option an author friend of mine swears by: If you've already got your book in a store but they're lagging on scheduling a reading, offer to set up a table for a couple of hours just to sign copies of your books purchased during that period. It's good for you, in that it connects you with people who've bought your book, and it's good for the store, because it encourages purchases that might not have otherwise happened. It can also be the next incremental step to getting your reading scheduled!
---
Oh, about Ingram:
Another caveat with bookstores is that some will not stock books or schedule readings for self-published authors whose books are printed by CreateSpace, an Amazon affiliate. Not only do many bookstores consider Amazon "the place that's putting us out of business" (as one store manager asserted to me!), but there are certain bookkeeping complexities with Amazon that dampen general enthusiasm for engaging with what they frame as "Amazon authors."
To hedge your bets, I'd suggest you also get your titles printed via IngramSpark, and use those versions (they'll have their own ISBN numbers) when approaching bookstores. You'll have a better chance of getting past the "anti-Amazon" pushback, and be less likely to be filtered through stigmas that continue to exist for self-published authors. Additionally, you'll be better set to approach libraries and other retail outlets, which also rely on Ingram for their ordering.
Once that's done, get postcards or business cards made with your contact information, images of your book covers, and the link to the IngramSpark ordering page (http://ipage.ingramcontent.com). Then get thee to a bookstore! If you can't get a one-on-one with the appropriate person, be prepared to leave a copy of your book with the card prominently attached. If you can get face-time, make your pitch and ask when you can set up a reading; if not then, leave your packet and follow up. Often. Cordially. Until you've got a date.
---
But don't forget other venues!
Keep in mind that bookstores aren't the only places to do readings. In fact, I did my first event at an art gallery/store. It was a great space with an owner who not only liked supporting artists, but saw the value of hosting events that would bring new people into her store as well (as it turns out, she had a great sales night too!).
Additionally, approach local churches, small theater playhouses, or corner coffee shops to see if you could organize an event in one of their meeting rooms. Check with friends who might be happy to a host a book event at their home (sort of a literary Tupperware party!): you'd supply the food, they'd get a few free books, you'd both invite guests, and you, of course, would clean up!
The point is, think outside the bookstore…it may open up many more options than you'd imagined.
---
Make your reading an event:
I spoke with an author recently, who, after finally getting a reading at her local bookstore, ultimately found the night to be a big disappointment: the manager did little promotion for her, few people showed up, and only a couple bought books.
I understood her frustration, but when I looked through the photos of the evening, it did look like a fairly humdrum affair. There she was, set up at an unadorned, generic banquet table, just a few books stacked around; nothing visually appealing, and no sense of "special." When I mentioned this, she replied, "But I couldn't afford special."
I get it; I do (believe me, I do!). But to maximize every opportunity you're given— or you get—as an author, you've got to accept that some money must be spent. You're running a business, a new business at that (every new book is a new business), and there's no getting around the fact that some capital outlay is required… though you can make it an "event" without breaking the bank:
1. A book sign.
You need a big, colorful sign of the cover of your book for display. If you have more than one, place one where people walk in; it grabs their attention and let's them know, "something special is about to happen!" But wherever else you put a sign, make sure there's one near you, so that as people watch you read, that image is firmly placed in their vision.
My book signs are constructed of 25" W x 36" H foam board, unframed (if you do get a frame use non-reflecting glass or don't bother with glass at all…. you never know where the sun will be during your event!). I used www.Signs.com, where that particular size sign costs only $38.00. Since you'll use it again and again, it's a bargain any way you look at it.
2. Set your table:
Get to the location a week or so ahead of time to find out what chairs, tables, podiums, stands, etc., are available for your use, and design your "set" accordingly. If you'll be seated at a table, bring an attractive table cloth, or get some flowers in vases; stack your books decoratively (in baskets or cool display boxes); display your cards and bookmarks. Generally make it (as my mother would say) "look nice."
3. Refreshments:
It's always good to have a small table set with sparkling and regular water, maybe some wine, coffee; even a limited selection of easy snacks (grapes, cheese/crackers, cookies… think Costco). Some bookstores will even provide wine and coffee for your guests; check ahead of time. But consider this part of the "presentation" a part of your marketing budget.
4. Book cookies:
People jokingly tell me they come to my readings just for the book cookies (I'm not so sure it's a joke!). I started the tradition after receiving a gift from my cousin in Chicago, a baker, who celebrated the launch of my debut novel by sending a box of really delicious sugar cookies with the cover of my book as the frosted top. I was beyond thrilled, and recognized what a novel (pun intended) "party favor" these would be for a book event. They've been a hit since my first reading. At my last, I made the unfathomable gaffe of leaving the carefully arranged basket at home; luckily, I had a bag of intended "surplus," so I kept those with me at the table and offered them as incentive to anyone who bought the book and came up for a signature. I swear, they did more to raise my stats that night than the actual reading!
I'm sure you can find many bakeries that do that sort of thing, but as an easy reference, Vicky Sarris Blanas ships nationally and she always does a great job. Just tell her "Lorraine sent me!" Her website: Lawrence Dean Bake Shop.
5. Other amenities: Non-edible "party favors"—book marks, thank-you cards, magnets, etc.—are also excellent ways to not only thank people, but to keep your information prominently displayed on their refrigerator doors! As a suggestion, www.Vistaprint.com has all sorts of very reasonable options.
---
Let's Talk Marketing:
Getting bodies into the venue can be the most challenging part of creating a successful event. Everyone's busy; even people who are profoundly supportive may find it difficult to get to the bookstore at the particular time you're reading, and often that long list of RSVP's on Facebook won't show up for any number of reasons. Effective marketing is essential, but before you decide how to market, give some thought to what you're marketing.
When you think about book readings, you have to admit: they're not exactly a "hanging from the chandeliers" kind of event. People sit quietly in neatly arranged chairs as the author faithfully reads from their book, after which a short Q&A ensues, then off to the register for a copy, then back to the author for a gush and signature. That's it, BAM, the night is done.
Could be fun, could be entertaining, but is it enough to excite people and ideally bring in new faces? Sure, famous authors can have 'em lined up around the block with no promise of bells and whistles, but you're a self-published author just in the process of building your brand; is it possible to jazz your event up a bit, make it something a little out of the ordinary?
1. Announcements
Before the first reading of my debut novel, all my promo (blogs, social media, email, Facebook event page, promo cards) shared an anecdote about the last time I'd read out loud: years earlier as "The Reading Queen" (replete with fake ermine stole and tiara) for my son's second grade class. I announced that I'd be showing up at the event in a tiara, with book cookies and snacks, and with the promise of all that ancillary entertainment (along, of course, with my new book!), the night rocked.
2. Advertising
My second novel is written from a man's point-of-view, so I asked a wonderful actor friend of mine to do the reading, inclusive of scripted bit in the first chapter that he and I would read together. I heavily advertised the fact that I had a "special reader" coming in, that he and I would be doing the "script part" together, and that event was incredibly well attended, inclusive of people I didn't know who told me they came because it "sounded interesting."
3. Style
My most recent book reading took another turn: I booked it with another author and marketed it as a double-feature event: "Two authors discuss books, inspiration, and road trips to Oakland" (both our books, oddly, featured road trips to Oakland!). In all our promotion, we emphasized that, rather than the usual format, the night would feature an "authors' conversation," where we'd sit together, ask each other questions and read from corresponding excerpts, with Q&A woven throughout. It was unrehearsed and off-the-cuff; it piqued people's curiosity, and got them in the door: engaged, involved, and buying books.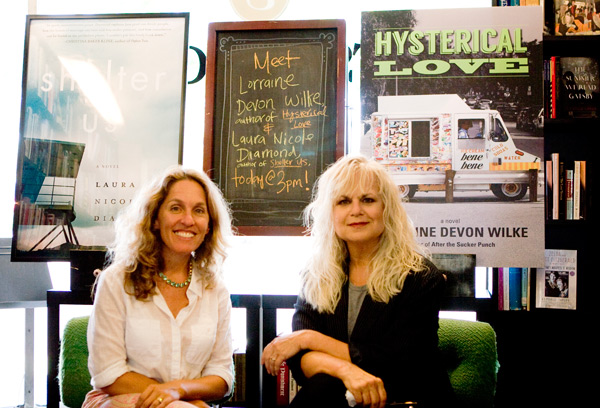 So think about what might be uniquely marketable about your book or the structure of your event. Be imaginative, even a little bold. It doesn't take much to spark interest if you focus on what makes your particular book or event special.
---
And now… Marketing That Book "Event":
Use everything in your arsenal. And be especially proactive about liaising with the venue to help get the word out. Here's my checklist in no particular order:
1. Postcards
Make postcards with images of you, the book, the venue logo, and ALL PERTINENT INFO (including any special elements, per above). Give these cards to everyone and their mother. Seriously. Everyone. And their mother.
2. Fliers
Create fliers and get them to the venue several weeks ahead of time. Ask if you can leave books on display near the cash register or on prominent shelves. Clarify that they'll post the event on their website, then make sure they have all the necessary information to do so. Check once it's up to make sure everything is spelled right and all times and dates are correct, then link to that page in all your subsequent promo. Be prepared to gift them a bottle of wine or something else appropriate as thanks for their graciousness… then ask about when you can rebook!
3. Facebook
Create a Facebook Event page with a colorful, eye-catching banner (visual sets the tone!). Again, include all pertinent information; mention every single special element (including the fact that there will be cookies and party favors!). Share the event page on your regular Facebook page a couple weeks before so people can get it on their calendars, then share it a couple more times as the event gets closer. Be sure to repost the day/night before. Don't be shy about asking friends to share it as well.
4. Twitter
Compile at least ten different Tweets about the event. Use images for some. Tweet alternately, but regularly, in the weeks prior. Retweet info about the bookstore or venue as a point of courtesy; make sure to prominently feature any of the event's "special" elements. If you're doing the event with another author, always post and share their information as well. Afterwards, follow up with more tweets about how well it went, with links to where they can get your book online (prior, only link to the bookstore… you want people to come there to get the book until after the event!).
5. Newspapers
Google "newspapers and media sources" in the city/town where you're having the event. Find which ones offer free event postings (many do). Post in every single place, online or off, that advertises in or near the town where you'll be reading.
6. Email
A week before your event, send out an email blast with all the information; link to your Facebook event page so people can RSVP there. If you have the budget for snail-mailing, send out your event postcard.
From there: call, arrange carpools, suggest mass transit; beg, plead, promise future babysitting. Whatever it takes.
---
And In the End…Enjoy It!
Ultimately, and even with all the above, life's vagaries may conspire to create horrible rush hour traffic, hideous weather, or conflicting schedules for those who "promised to be there." You'll notice people eating cookies without buying the book; you'll wish you'd answered that one question better, and the bottle of wine for the owner broke in the parking lot. But the fact is: YOU DID IT! And each time you'll be better, each event will be better.
And remember this: even the most famous authors in the world played to quiet rooms at times. A publicist told me that a certain uber-famous author whose book became both a bestseller and Oscar-nominated movie read to an almost-empty house with that same book just months before she became famous. So, no matter what happens, know you're in good company! And…well, you've got the cookies!
---
Lorraine Devon Wilke is a regular columnist at The Huffington Post, a fine art photographer, and the author of two contemporary novels, After The Sucker Punch and Hysterical Love, both of which have the distinction of being indieBRAG Medallion Honorees. All details and links to her work and social media can be found at www.lorrainedevonwilke.com.
Lorraine Devon Wilke
info@lorrainedevonwilke.com