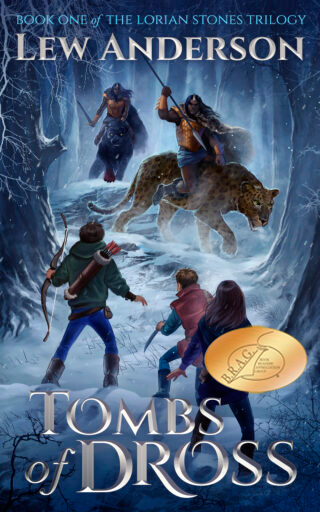 ---
Synopsis
Winner 2021 Reader's Favorite Silver Award (Audiobook)
Hunted, stranded, shipwrecked, sold, and betrayed… all to find an old book and realize who you really are.
After discovering a mysterious stone pillar, Isaac, Zac, and Breezy find themselves fighting for their lives in a strange and perilous world, unaware of the disruption they bring. Hunted by the immortal Lord Sasson, the teens forsake all to pursue an ancient quest in hopes of returning home. Together with some misfit rebels and a giant lynx named Nusa, they battle over land and sea while learning who they are and the ultimate sacrifice they must make.
Award-winning author Lew Anderson creates a captivating world of intrigue and suspense-filled action in this first book of The Lorian Stones Trilogy, a family-friendly series for upper elementary to young adult.
"Highly recommended as a compelling, delightful book for all those who love full-fledged fantasy adventure tales of hope and friendship in the midst of danger and trial." —Wayne Walker (Homeschool Book Review)
"A terrific read for all readers! I have rated many books… and this is one of my favorites." —Pastor Tony Vietti
Copyright 2023 IndieBRAG, LLC. All Rights Reserved.