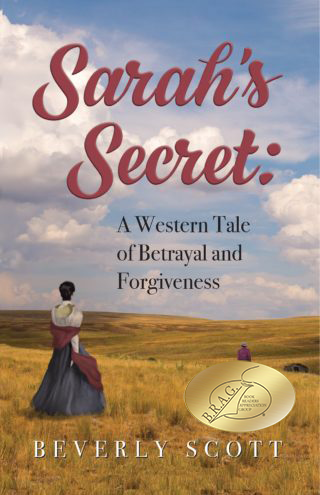 Sarah's Secret
A Western Tale of Betrayal and Forgiveness
---
Synopsis
"What happens when a widow is profoundly betrayed by the person she trusted most in her life?"
In Sarah's Secret, set in the hardscrabble early 20th century Midwest, Bev Scott skillfully brings to life the physical dangers and the subtle emotional crises which confront Sarah, a widow trying to keep her family together in the face of poverty and betrayal. The historical richness of this Western story of struggle, betrayal and redemption provides vivid details of pioneer life.
"Spellbinding tale!"
With grit and determination, Sarah seeks refuge back in Nebraska after the death of her husband, Sam in New Mexico. Sam's story, set earlier in the post-Civil War frontier, is not at all what we expect. The women who are touched by him and who kept his secrets close are heroines of courage. With deep rich characters and a believable story, the twists and turns of the plot make this a stunning read.
"Readers of Western fiction who enjoy a solid blend of history and psychology and who seek more than just a frontier flavor in their fiction, will find Sarah's Secret an absorbing and revealing read."
"Bev's descriptions paint pictures with clarity and passion in both her historical fiction work and her professional texts. This is a great fictional debut from an accomplished scholarly author."
Popular Books in Historical Fiction
---
Copyright 2023 IndieBRAG, LLC. All Rights Reserved.