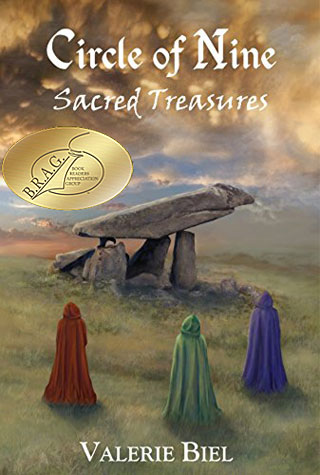 Circle of Nine -Sacred Treasures (Book 3)
Sacred Treasures
---
Synopsis
"Return to the Celtic magic that began with the suspenseful, award-winning novel Circle of Nine – Beltany . . ."
Brigit Quinn has survived a year full of both good and bad surprises after learning the truth of her unique heritage as a descendant of a powerful Celtic tribe. As she trains for her eventual place in the Circle of Nine that guards the ancient stone circles of Ireland, Brigit embraces the rich, mystical history of her people and the responsibility to protect their extraordinary way of life.
But everything Brigit holds dear is in jeopardy when a mysterious packet warns of an evil force seeking to steal the legendary weapons known as the Sacred Treasures and use them to destroy the Circle of Nine. Plagued with worry about her own magical capabilities, the motivations of those around her, and her family's lineage, Brigit is catapulted on a mission to discover exactly who is threatening her people. Can Brigit and the rest of the Circle learn the truth in time to destroy this enemy for good?
"The first time I summoned a portal, I didn't understand how I accidentally opened a doorway to another realm. The second time wasn't a mistake. I was ready and stepped through with a clear vision of my destination and the grim resolve that my mission must succeed." – Brigit Quinn
Popular Books in Young Adult
---
Copyright 2023 IndieBRAG, LLC. All Rights Reserved.