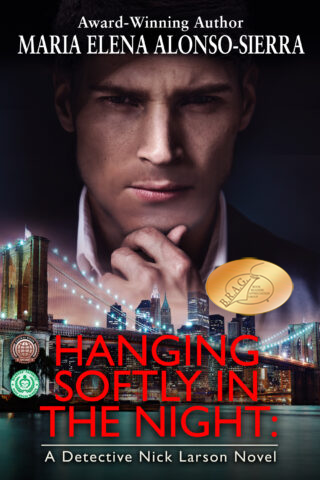 Hanging Softly in the Night
A Detective Nick Larson Novel
---
Synopsis
A SERIAL KILLER…STAGING MURDER AS SUICIDE.
A DETECTIVE ON A DESPERATE HUNT…BEFORE MORE VICTIMS ARE FOUND.
New York Police Department's Sixteenth Precinct in Manhattan is under siege by the flu, and Detective Nick Larson and his partner, Detective Victor Sacco, are up to their armpits with work overload. The captain's cigar is seriously chewed, and everyone is working around the clock. To complicate matters, on a personal level, things aren't going smoothly, either. Laura Howard, the woman Nick loves, is also having issues with a psycho twin sister who is doing everything to ruin Laura's business and her life.
Then Nick's captain assigns a new case, a suicide. From the moment Nick steps on scene, however, something doesn't feel quite right, especially when, upon investigating the case further, the supposed suicide looks more and more like an actual homicide. Immediately, Nick's instincts kick into gear, but rev into overdrive when similar, questionable suicides pop up around the area. And with the way things have been going lately, it would just be Nick's luck to have a serial killer on the loose.
Set in New York City, Hanging Softly in the Night is a story of murder, mental illness, determination, perseverance, and, ultimately, justice.
Copyright 2023 IndieBRAG, LLC. All Rights Reserved.