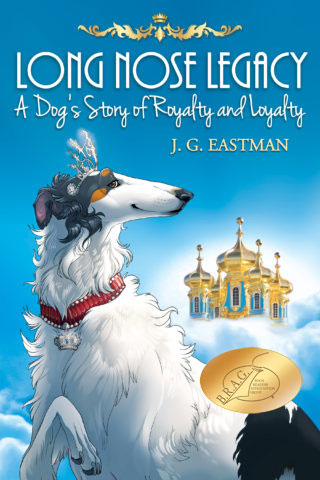 Long Nose Legacy: A Dog's Story of Royalty and Loyalty
---
Synopsis
When American Grand Champion, Amazing Grace, an aristocratic, snobby Russian Wolfhound—or Borzoi as they are now called—gives birth to four noble puppies, her "American Royalty" litter makes a spectacular splash on the cover of Hound Beautiful magazine and sends ripples of envy throughout the dog show world. Naturally, Gracie expects her puppies to receive all the pampering befitting their famous pedigrees, so she skillfully schools them in the fine art of being a spoiled brat. Daughter Carnegie has inherited Gracie's haughtiness, making her a most willing and gifted protégé. Carnegie assumes she'll be pick of the litter, but when the coveted title goes to her humble but perfect sister, Madison, she's resentful and scoffs at being a silly show dog.
Carnegie sets her sights on a loftier calling—living in the Imperial Palace in Russia and becoming a famous woof hunter. (Yes, "woof." Carnegie has a speech impediment). The only tiny problem is how to get from her home in New York, all the way to Russia on her own.
Madison is torn by loyalty to her owner, who expects her to carry on their kennel's legacy of Grand Champion show dogs—to Anastasia, the young girl who holds her heart—and to her scheming sister, Carnegie, whose selfish plans threaten the loss of everything and everyone Madison loves.
Carnegie's obsession with being Russian royalty and Madison's break-your-heart loyalty sends the sister show dogs on a funny, fanciful, and heartwarming journey that will captivate dog lovers of all ages.
Popular Books in Middle Grade
---
Copyright 2023 IndieBRAG, LLC. All Rights Reserved.