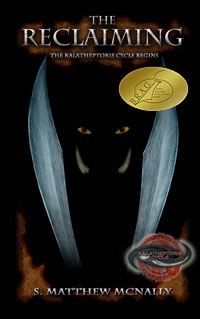 ---
Synopsis
"An epic tale on the smallest scale!"
On the northern shores of the island colony of Glenisle lies the Turish port city of Tamendad, where business as usual includes keeping a watchful eye on the island's native inhabitants to the south. When an enemy emerges from the darkness to threaten the city, an unlikely group of heroes must band together: a young nobleman, a penniless wanderer, an enigmatic ambassador from another land, a lord of the indigenous Dammaugh people, a squat blacksmith, a jewelry merchant, the Captain of the Guard, even the city's own Governor. Together they must save something more precious than the world: their home.
S. Matthew McNally presents the opening installment of the Kalatheptoris Cycle, an epic tale of swordsmanship, romance, philosophy, political intrigue, friendship, betrayal and brotherhood.
Copyright 2023 IndieBRAG, LLC. All Rights Reserved.