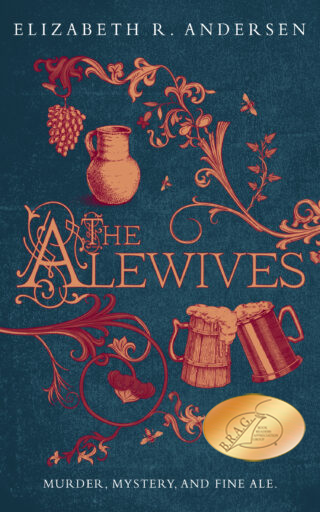 The Alewives
A plague-era tale of murder, friendship, and fine ale
---
Synopsis
Colmar, 1353 CE
Gritta, Appel, and Efi managed to survive the Black Death, only to find that they are in desperate need of money. With limited options and lots of obstacles, they band together to become alewives – brewing and selling ale in the free Alsatian town of Colmar. But when an elderly neighbor is discovered dead in her house, the alewives cannot convince the sheriff and the town council that her death wasn't an accident, it was murder. As the body count piles up, the ale flows and mystery is afoot!
Set in the tumultuous years after the most devastating pandemic the world has ever experienced, The Alewives is a playful romp through a dark time, when society was reeling from loss and a grieving population attempted to return to normal, proving that with the bonds of love, friendship, and humor, the human spirit will always continue to shine.
* * * * * A short, sharp, snappy, hugely entertaining, medieval mystery that portrays the realities of life at the time, with just the right amount of humour to make it thoroughly entertaining. A well-deserved 5/5 from me! – MJ Porter, author of Cragside and The Erdington Mysteries
* * * *.* 'The Alewives' is laid out with great compassion, insight and humour and the reader comes to care for these people! The strong and growing working relationship and friendship of the three ale wives in question and
round which the action evolves is moving and profound. we are left hoping that good times – and further adventures – are just around the corner! – The Historical Fiction Company
Popular Books in Historical Fiction
---
Copyright 2023 IndieBRAG, LLC. All Rights Reserved.