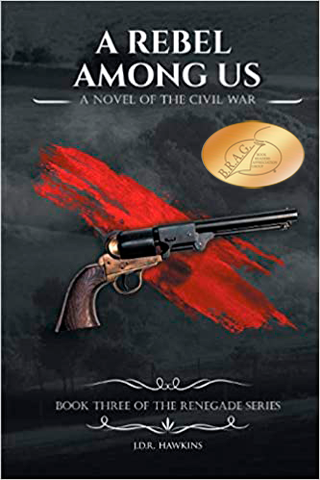 A Rebel Among Us
A Novel of the Civil War
---
Synopsis
David Summers never expected any of this…not in a million years. He thought for sure he was a goner. After leaving Alabama and enlisting with the cavalry, his delusion of chivalry was suddenly quashed when he saw for himself the horrors of battle. Now, after being shot and ending up at a strange farmhouse, he's found himself being nursed back to health by four beautiful girls, and has learned that his Confederate brethren have deserted him in Pennsylvania after fighting at Gettysburg. It's more than he can fathom. On top of that, he's been presented with an even bigger dilemma. He knows he's falling in love with the older sister, Anna, and she has enticed him with an interesting proposition. However, her scheme goes against his principles, and the reasons why he enlisted in the first place – to avenge his father's death and defend his sacred homeland. To David's dismay, he must make a decision. Should he stay and help Anna with her underhanded plan, deceiving everyone around him by pretending to be a Yankee? If discovered, he would be considered a traitor to the cause, and she could be in jeopardy of treason. Or should he leave the farm, say goodbye to her, and risk certain capture? Either way, his perilous situation doesn't seem to offer an encouraging outcome. If that isn't bad enough, Anna's neighbor, a Union officer, is in love with her, too, and he would stop at nothing to have David arrested … or worse.
Popular Books in Historical Fiction
---
Copyright 2023 IndieBRAG, LLC. All Rights Reserved.